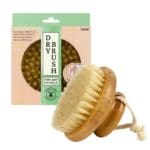 Lindo Natural Bamboo Dry Brush
Lindo Natural Bamboo Dry Brush
₵220.00
The Lindo Dry Brush enables gentle skin exfoliation and improved blood circulation through wet or dry body brushing. Regular brushing can help to promote overall softer skin by encouraging collagen production and remove the appearance of cellulite.
Only 2 left in stock
Only logged in customers who have purchased this product may leave a review.